Grazie alla disponibilità offertami dal Centro di Micologia Applicata della facoltà di Agraria dell'Università di Bologna, ho eseguito alcuni test con lo scopo di iniziare ad indagare la possibilità di guidare e indirizzare la crescita del micelio.
Ringrazio per il prezioso contributo la Dott.sa Federica Piattoni, la Prof.sa Alessandra Zambonelli e i Dott. Mirco Iotti e Dott.sa Pamela Leonardi per i consigli.
..
The mycology centre of the Agriculture Faculty at the University of Bologna offered me the possibility to work at their Lab and make some in vitro tests with mycelia. The purpose is trying to guide and lead the mycelium growth in a controlled manner.
Thanks to Dott.sa Federica Piattoni, Prof.sa Alessandra Zambonelli, Dott. Mirco Iotti and Dott.sa Pamela Leonardi for their help and suggestions.
glucose handmade pattern
Un primo set di capsule petri è stato preparato lavorando su A-A (agar agar grade a) a diverse concetrazioni di zucchero (glucosio).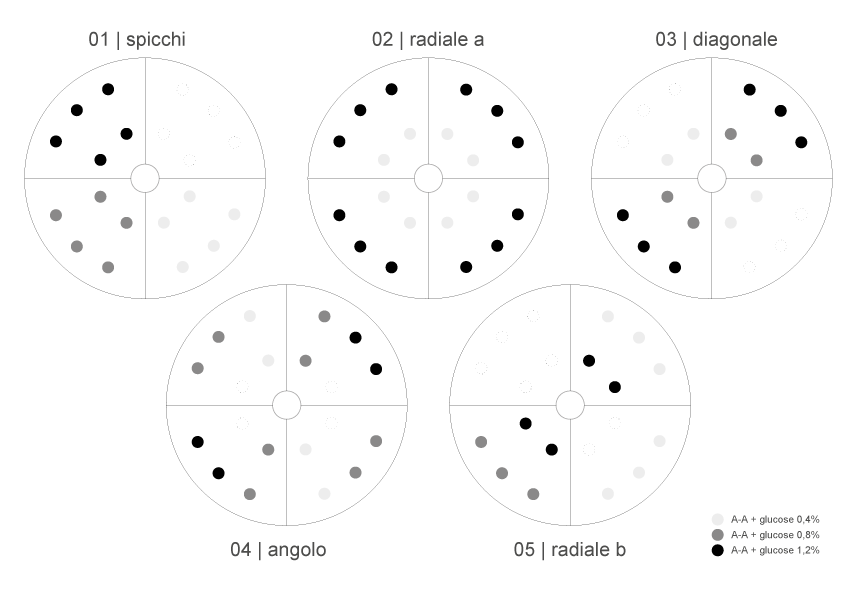 Continue reading →